Chat Resolutions & Resets with KitsKitchen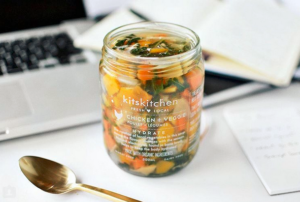 Help reset your beautiful 2017 self with a Q&A by the local soup master duo Joni and Amy of KitsKitchen
What are you health and wellness New Years resolutions?
Amy: 2016 was a good year of fitness so continuing that for 2017. I think that stimulating the mind is important so my goal is to read a book a week.
Joni: I have always enjoyed exercise and eating well. I have been increasing the amount of water I drink and I want to keep that up. I am also aiming to get 7-8 hours of sleep per night and making that more consistent in 2017.
What are the health benefits of incorporating all-natural soup into your everyday diet?
BOTH: Soup is a very nutritious, and most importantly, an easily digestible meal. When healthy soup made with organic vegetables is incorporated to your daily meal you will fill up faster on less food due to the high water quantity. This gives your body more time to digest and absorb the nutrients. It is proven that when soup is consumed during a meal approx. 20% less food is consumed during your meal.
Weight regulation is directly associated with digestion. By eating a meal that eases digestion, you are helping your digestive tract so that it can absorb what it needs.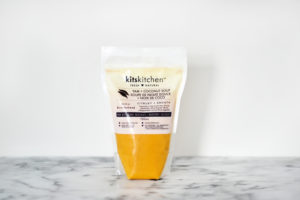 How do you re-set after the hectic but joyous Holiday season?
Joni: I find after the holidays I just need a solid nights rest and lots of water. I always increase my intake of our chicken & veggie soup and chicken broth during December and January to balance out any increase in Christmas cookies, meals and drinks.
Amy: For me, going all-in works in terms of commitments, a 30 day detox is what I'll be doing. Lots of parties in December = a lot of wine! Saying that, cutting out the drinks, increasing my water intake, and maybe a bit more exercise.
What is your go-to Winter Farmers Market in Vancouver?
BOTH: Nat's Bailey is always a great Winter Farmers Market, because of the line-up of vendors, ample parking and relatively central location. We used to pick up our veggies right at that market for our soups!
If you could be any vegetable what would you be and why?
Amy: I'd be a turnip because I really like to turnip the beats!
Joni: I'd be a carrot because they are naturally sweet and I love my carrot tops!
---
Check out the Juicery Co x KitsKitchen Warming Detox and here have it delivered to your door any day you like!