Remember when mornings were waking up to freshly delivered milk from your neighborhood milkman and sitting down to read the paper over a glass of freshly squeezed O.J? Neither do we.
Let's bring it back old school when the news was only shared on paper and your eggs we're poached instead of sous vide. The fast paced life of our modern time is to blame but this guide is here to help you slow your mornings down and to help you implement positive rituals to start your day off right — at least Monday through Friday.
Mornings are precious and having a proper morning routine can set you up for a day of success or scatter. Before the emails roll in and the meetings begin, take the time to invest in yourself through rituals that will fuel your body, mind and spirit so you can seize the rest of your day as your best-self.
As the age old saying goes, "The early bird gets the worm."
---
Morning Ritual Setting 101 
Step 1: Ask yourself a couple of questions to help you set the perfect morning rituals for YOU!
How many days per week do I wake up on the wrong side of the bed?
What does the perfect morning look like for me during my work-week?
What makes me the most frazzled in the morning?
What is within my power to help me set myself up for success for the day?
What do I need to start my day off as my best self? I.e: Exercise, Meditation, Creativity, Fuel, etc
 Now that you've done some serious self-digging, it's time to set your morning rituals! 
---
Step 2: Purge your wake-up habits that aren't serving you and re-set your morning ritual routine. 
Morning Ritual Suggestions
Rise 30-45 minutes early to exercise. Set our your exercise clothes the night before.
Meditate for 5 — 15 minutes, setting an intention for your day.
Write down 3 things you are grateful for.
Make a healthy breakfast and sit down to enjoy it.
Substitute your sugary cereal for a plant-based smoothie to better fuel your body and brain.
Call or message someone you love.
Read your favorite blog to start your day off inspired.
Listen to a podcast instead of reading the news.
Replace your java with hot water and lemon to kick-start your metabolism and immune system.
Set a daily mantra. I.e: Today I am going to be fearless, organized, productive, creative, healthy.
Stretch for 10 minutes to get your blood flow throughout your body and to the most important muscle, your brain.
Write a list of 3 things you want to accomplish for the day.
---
Step 3: Practice your renewed morning rituals for 30 days and observe if they help you begin your day off feelings lighter, brighter and ready to take on the day. Purge and replace to fit the needs of your schedule to consistently work on living your best, one morning at a time.
---
A couple of The Juicery Co. Team Leaders — Candice and Cally — share their morning rituals! 
Cally — Lonsdale and Main Street Location
Journal — The first thing I do right when I wake up every morning is to grab my journal to write whatever comes to my mind. I am most vulnerable early in the morning and my thoughts and words are coming directly from my heart. It helps me to know what I want and need that day.
Hot Water and Lemon — After my writing spree, it's usually then time to go heat up the kettle to make lemon water. When I am away from my home, my stomach begins to act up. I have troubles maintaining consistency in my gut due to the unfamiliarity of the environment and my mind plays a huge factor in my gut health. Because of this, I've developed specific tactics to tackle this head on. The sound of the kettle is always a constant wherever I am, it is familiar and soothing to me. As a bonus, the hot water helps to stimulate your system and gets it ready to start working all day long.
Vitamins — After taking some time to write and hydrate, I always take my supplements. I used to take over 10 pills per day when I was sick, and this is not sustainable for the long-term. I now take my essential supplements that I know I won't be getting a lot of from my food – vitamin D, omega 3's, silica, and magnesium.
>>> My mornings are always crazy and on-the-go, but these three things are always a constant and I have learned to love my body and make it a priority. <<< 
---
Candice — Main Street Location 
Yoga —
I spend my days running around so warming and stretching my muscles and calming my mind is key to starting my day off right. I set up my yoga mat in front of my favorite window in my apartment and stretch for 10 -15 minutes. I calm my mind by practicing slow and steady breathing and always set an intention for my day. I.e: Today I am going to challenge myself, do something new, show gratitude to myself and others, etc …
But First, Hot Water and Lemon
— I used to stumble out of bed and with one eye open, start up my french press. My stomach is prone to sensitivity and I've never felt my best-self after I guzzle a mug of coffee before I hydrate. I've learned to kick my habit and have a mug of freshly squeezed lemon and hot water to balance my body's PH, strengthen my immune system and regulate the healthy microbiome in my gut.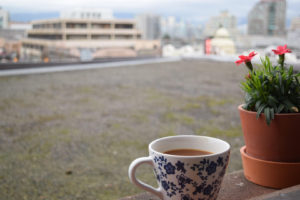 Fresh French Press — After I've hydrated, I make a french press of locally roasted coffee. I religiously add turmeric, honey, with a splash of almond or coconut nut mylk. I sip and savor my mug of java as it's my reward for stretching and hydrating first. My favorite place to enjoy my steaming mug of orange-tinted java is from my bedroom window view where I watch the city awaken and reflect upon my daily intentions.
---
A handful of successful and inspiring figures and their morning rituals! 
Barrack Obama, President of the United States: Starts his day with a workout at 6:45 am, reads several newspapers, has breakfast with his family, and then starts his work day just before 9 am.
Steve Jobs, Founder of Apple: Jobs spent his mornings re-evaluating his work and desires. In his speech to a graduating class at Stanford, Jobs said, "For the past 33 years I have looked in the mirror every morning and asked myself: 'If today were the last day of my life, would I want to do what I am about to do today?' And whenever the answer has been 'No' for too many days in a row, I know I need to change something."
Anna Wintour, Editor-in-Chief, Vogue: The infamous fashion editor wakes up every day pre-dawn to get her adrenaline pumping. At 6:45 a.m., she's already played an hour of tennis, then it's off to have her hair styled into her signature bob. She's in the office by 9:00 a.m.
Benjamin Franklin, Founding Father of the United States: Franklin kept a tight schedule, starting his day waking at 4:00 am. His routine was to awaken early, wash, eat breakfast and think about what he would accomplish for the day.
Frank Lloyd Wright, American Architect & Interior Designer – His days being filled with business and structure, he would wake at 4 am and develop his architectural designs until 7 am.
"The early morning hours have gold in their mouth." — Johann Wolfgang von Goethe
By: Candice Savage